WHO ARE WE?
We are the Pediatric Headache Center of Richmond dedicated to the diagnosis and treatment of headache sufferers from birth to 21 years of age. Patients and families can expect quality care, support and understanding of living with the dibilitating affects of headaches.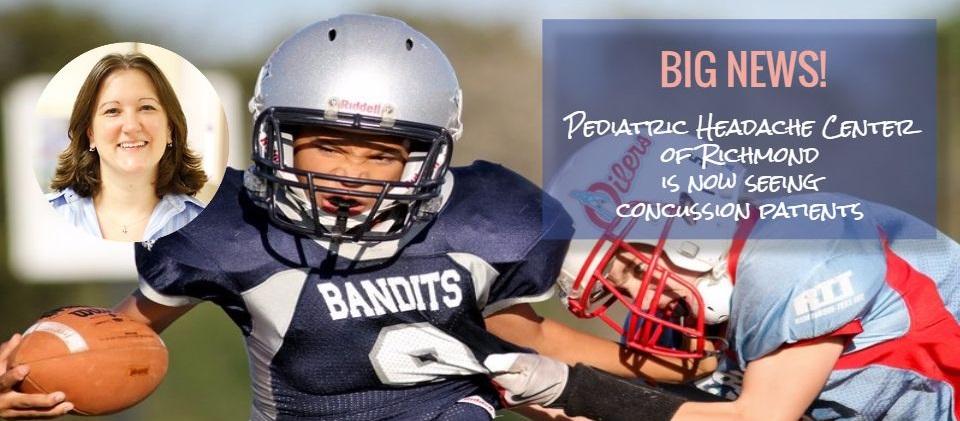 Dr. Alford explains Concussion Symptoms and Treatment in an interview with NEWS3.
Children can develop different types of headaches just like adults.  These may include migraine, stress related or tension headaches and chronic daily headaches. Headaches in children may be caused by high levels of anxiety or stress, minor head trauma, or infection. Certain foods and drinks can bring on headaches such as food preservatives or too much caffeine. Genetics can also be a factor if there is a history of headaches in the family.
CHRONIC DAILY HEADACHE
Chronic Daily Headache (CDH) is a phrase used for migraine and tension type headaches that occur more than 15 days a month for more than 3 months. Minor head injury, infection or taking pain medications too often may be causes for CDH type headaches.
TENSION TYPE HEADACHE
Tension Type Headaches can last from 30 minutes to several days. Younger children will want to sleep more and may withdraw from regular play. These type of headaches may cause:
Pain that does not get worse with physical activity.
A steady pain – non-pulsating – on both sides of the head.
Tightness in the muscles of the neck or head.
No vomiting or nausea accompanying the headache.
CLUSTER HEADACHE
Cluster headaches are not common in children under 12 years old. They usually range from one headache every other day to eight a day in groups of five or more episodes. The headache also involves a sharp, stabbing pain on one side of the head that can last from 15 minutes to three hours. A runny nose, congestion, tears or agitation and restlessness usually accompanies Cluster Headaches.
Migraine is common in children. Roughly, 10% of school-age kids suffer. They are not just a severe headache. Migraine is a neurological disease with head pain and affiliated symptoms, such as:
dizziness
nausea
vomiting
abdominal pain
mood changes
There may also be sensitivity to:
LIVING WITH MIGRAINE
Childhood migraine can greatly hurt a child's quality of life. Children and adolescents may develop anxiety in anticipation of an attack knowing that their school time or enjoyment of activities could be affected. Migraine suffers are absent from school twice as often as those children that don't.
ADDITIONAL SERVICES
Supraorbital Nerve Blocks

Supratrochlear Nerve Blocks

Transcranial Magnet Services

SPG Blocks

Neurofeedback Training
While we often think of concussion in athletes, they can happen with any head injury and often without loss of consciousness. Parents need to recognize common signs and symptoms so their kids can get prompt treatment. A child may seem okay. However, symptoms can develop hours later.  
SIGNS AND SYMPTOMS OF CONCUSSION
Loss of consciousness

Headache

Blurred vision

Difficulty walking or balance issues

Decreased responsiveness

Confusion and slurred speech

Memory loss

Vomiting

Difficulty concentrating

Mood swings

WHEN TO SEE A DOCTOR
Seek Medical Attention If Your Child's Headaches:
Become more frequent or get worse.

Cause your child to wake from sleep.

Changes their personality.

Are accompanied by neck pain or stiffness and fever.

Are after an injury such as a blow to the head.

Cause changes to vision or repeated vomiting.